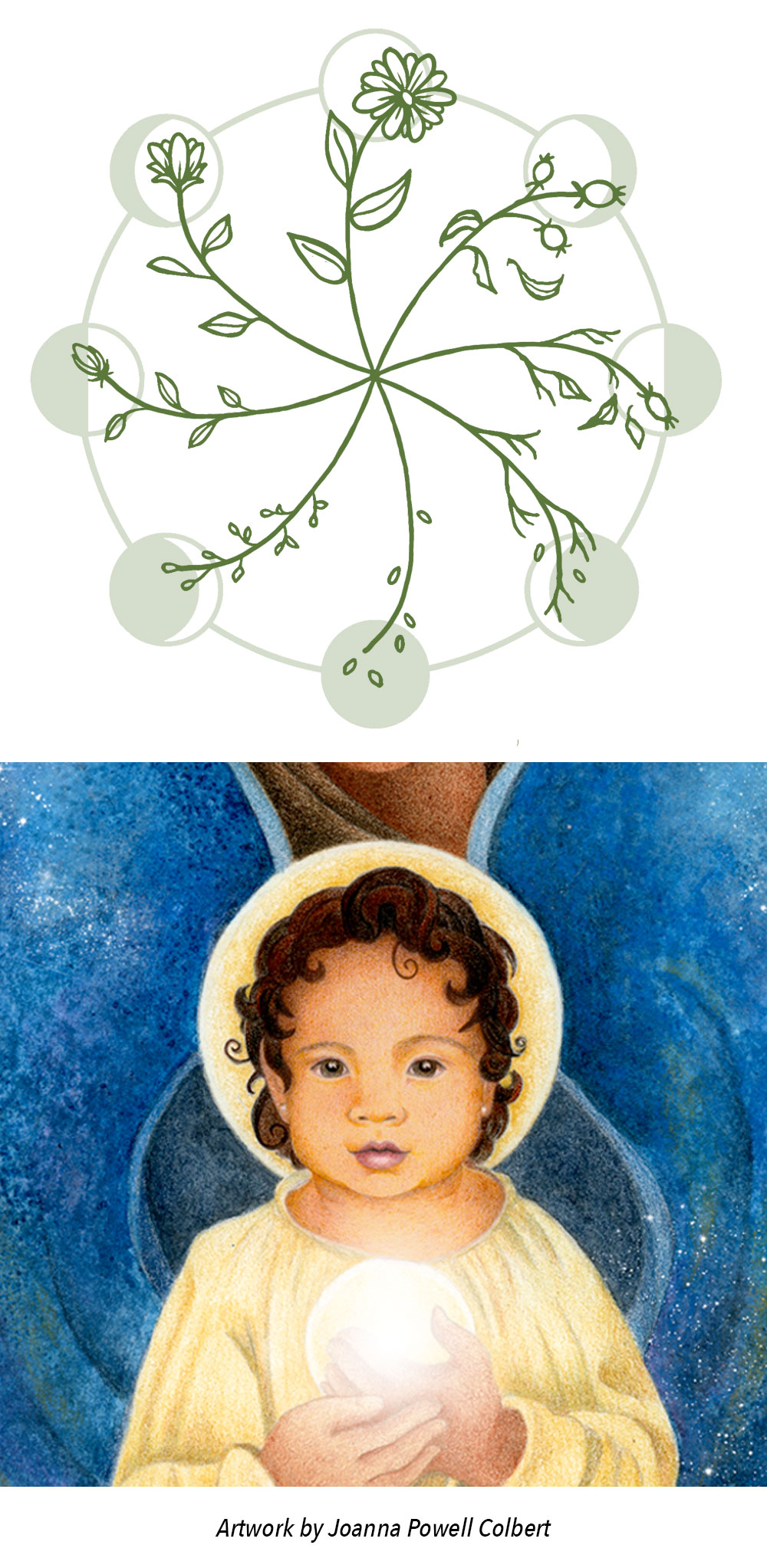 Come walk the Wheel with me ...
We live in a culture that values youth more highly than midlife or old age. But just like the seasons, each life stage has its own unique gifts, challenges, and tasks.
"Walking the Sacred Wheel" intertwines seasonal lore with the seasons of our lives. We'll braid together our personal stories, the greater stories of our times, and deep wisdom gleaned from seasonal archetypes of the Sacred Feminine — wisdom figures like the Child of Wonder, the Midsummer Queen, the Reaper, and their sisters.
In this course, we'll reflect on the phases of our lives that correspond to the eight seasonal tides of the Wheel of the Year. You'll recognize, heal, and celebrate yourself at every life stage. You'll be invited to discover the medicine embedded in your wounds. You'll dream yourself forward into life stages you have yet to experience in chronological time, and consider what may lie ahead.
This course is part magical guide, part eco-spiritual liturgy, and part brave space for reflecting on the stages of your own life's journey. 
There will be expressive writing, with journal prompts to spark ideas. There will be tarot spreads. There will be nature activities, ceremonies, somatic exercises, playlists for movement, and art-making. There will be circle council. But the emphasis will be on writing — as much or as little as you want to do. 
In December 2021, I set an intention for this course: I wanted to create a container and a community where we could walk one whole round of the year together, beginning with the seasonal tide of Winter Solstice.
My intention manifested in a beautiful way, and I'm happy to say that many people who participated the first year will be returing to walk the Wheel again for the second round of this course, which begins in December 2022.
Once again, we'll celebrate the seasons (geared towards the Northern Hemisphere), but also look back on and forward to the corresponding life stage. We will seek wisdom / medicine / counsel from each Wisdom Figure of the season. 
We'll explore questions like: 
What might be unfinished from a certain time in my life?
How do I need to forgive myself and others?
What does my older, wiser self want my younger selves to know?


As we walk the Wheel of the Year together, I invite you to revisit the child you once were and look ahead to the elder you may become.  
Let the Child, the Queen, the Reaper and their sisters take you by the hand and guide you into coming home to yourself. 
This course may be for you if:
You find deep wisdom and nourishment in the seasons and the lunar round.
You want to reflect on earlier stages of your life through a mythic lens, and discover the larger story there.
You want to excavate your past and make a map for your future — and you need a little guidance.
You want to consider your legacy. How might the stories of your life make a difference for someone else? 
You find that expressive writing is a tool for self-discovery.
You have an affinity for the Sacred Feminine, whatever your gender expression.
You want to be part of a vibrant, friendly, supportive community.
You want to live in the depths, not the shallows.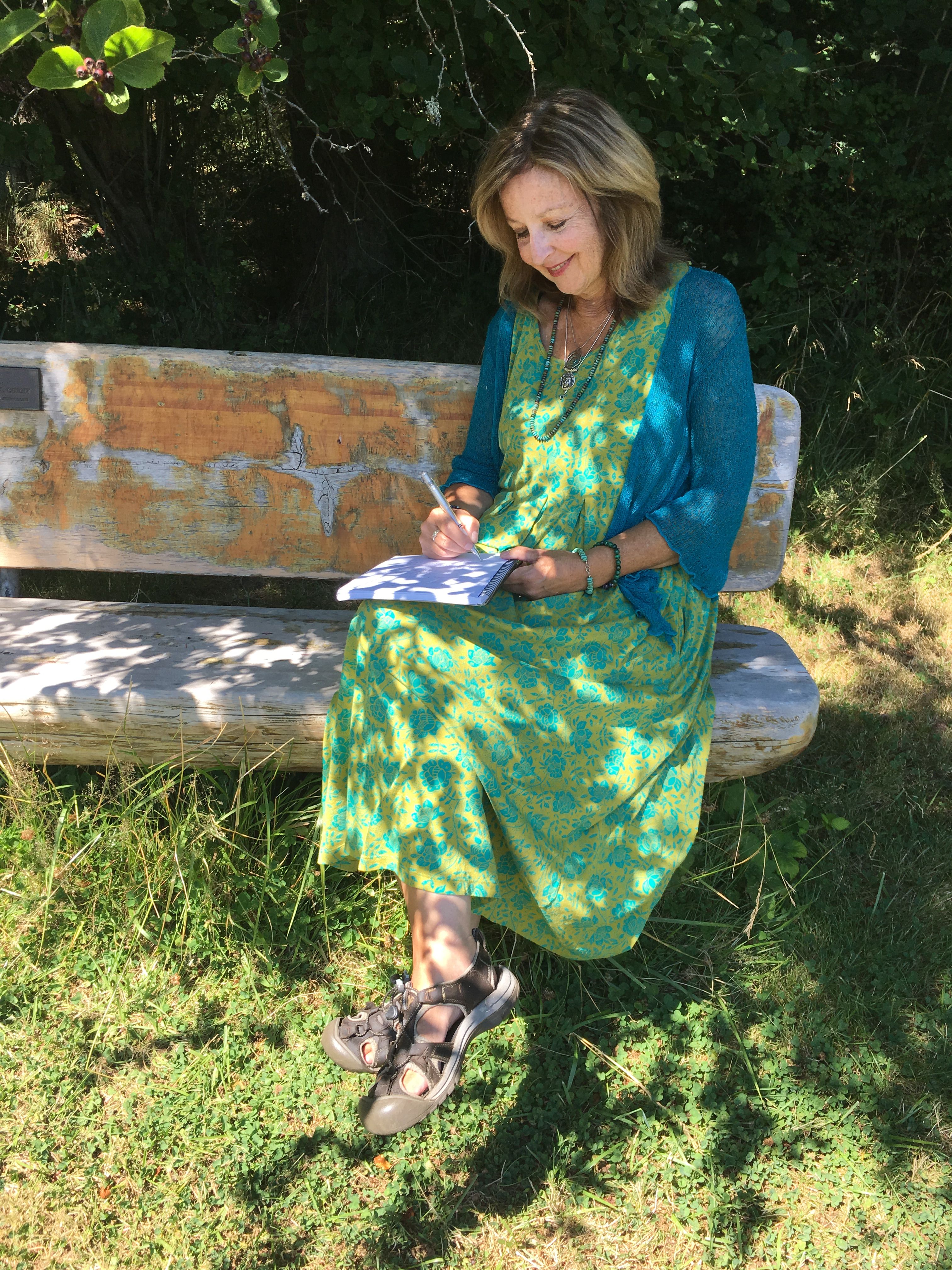 Here's How It Works:
Registration will open on November 13, 2022.

The course will run for one entire round of the year. Each seasonal session runs for four weeks, with two or three weeks of integration time between sessions. 
When you register, you'll have immediate access to the Prelude material and Resource Library. 
During each seasonal session, you'll receive an email every Sunday with links to the current week's activities in the Teachable classroom. Teachings will be delivered through a mix of written word, audio, and video.
You will be invited to deepen your experience of the season and to reflect on the corresponding life stage and its themes. We'll do this through expressive writing, ceremony, tarot exercises, art-making, nature connection, and movement. 
We will gather together in circle council on Zoom twice during each seasonal session, to listen and learn from each other. At times, we'll also do some tarot or writing exercises live, then break into small groups to share. The calls will be recorded for those who can't be there in person (small break-out rooms are not recorded). 
New for 2023: Seasonal Rituals on Zoom. We will also gather on Zoom once per session to honor the season in a ritual or ceremony.
We will have a private discussion group open 24/7 on Mighty Networks, including the weeks of quiet integration between seasonal sessions. You can access it through an app on your phone or tablet as well as on your laptop or desktop computer. The groups I host tend to be very welcoming, lively places where it's easy to make new friends. You'll be able to share your responses to the course material, ask questions, and offer help to others. 
You will have access to the course as long as I have an online presence ... so you can continue to walk the Wheel beyond this first year.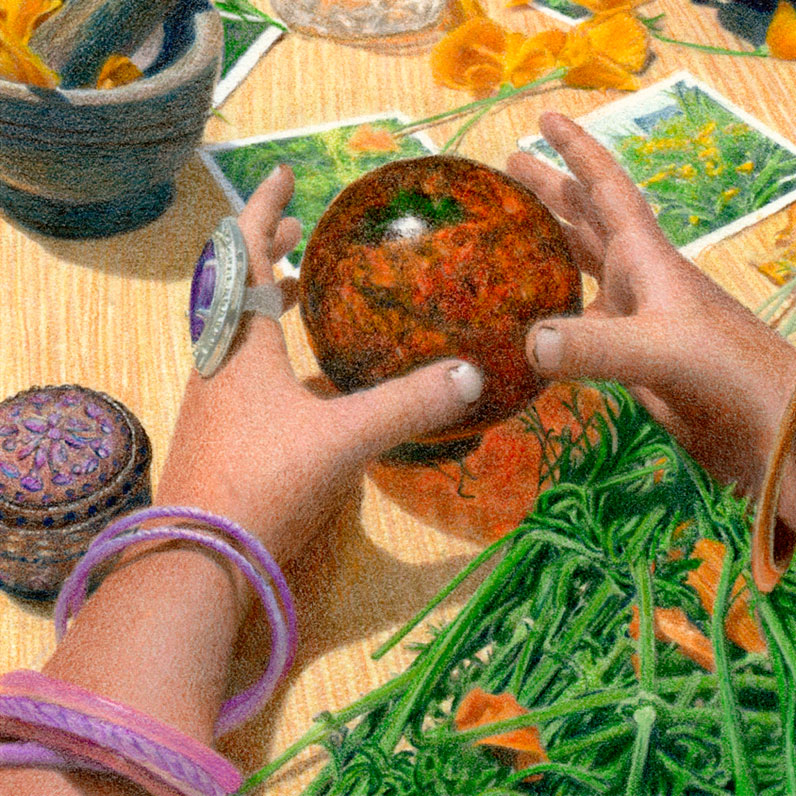 "I loved the course! Thank you, thank you, thank you for planning, preparing and leading this circle. It is something I needed badly just now and has given me so much inspiration and rooting. I learned so many new things and felt great empathy and inspiration from the women who posted in the discussion group." - PL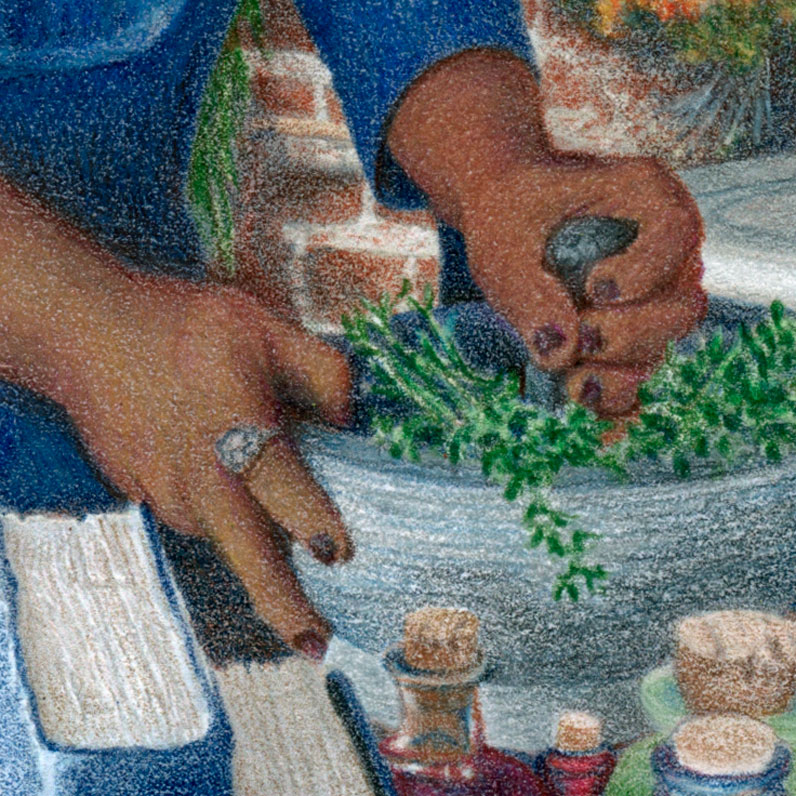 "I loved Joanna's class! I felt it was somehow simple, easy to follow, and yet dense and rich and expansive. She's a queen and her presence is calming and enlivening at once." ~ RC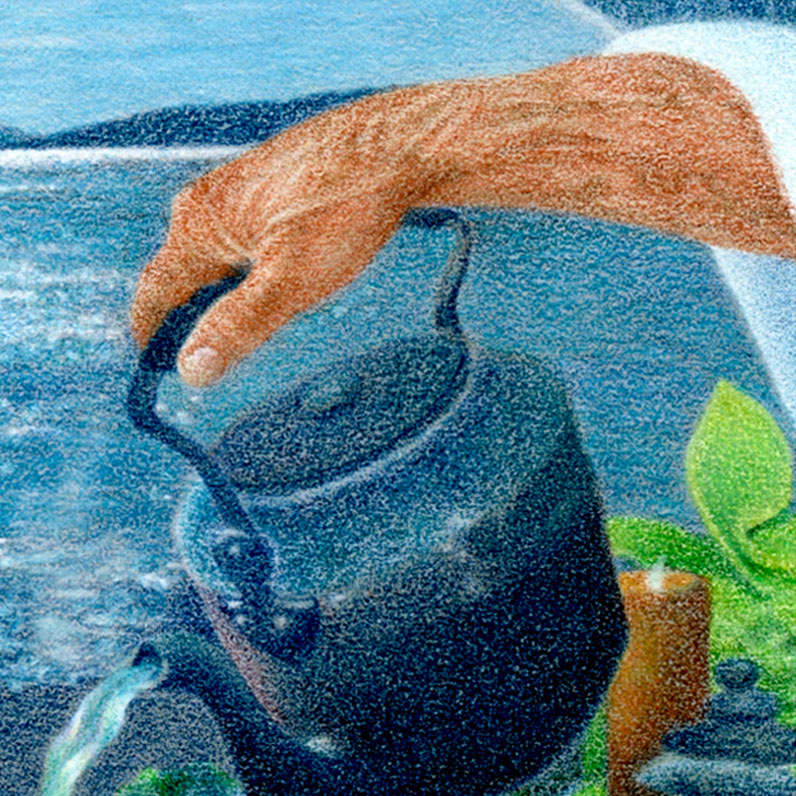 "Thank you for your deep and powerful content and the beautiful way that you offer it and respond to all who are on this journey with you. Your lessons each week gave me both 'aha' moments and an incredible sense of gratitude and being in step with where I need to be, in an almost unbelievable way." - JK
"You always craft such thought provoking, nurturing courses. I especially appreciate that you guide us to engage our various processing skills — writing, meditating, exploring, questioning, creating." ~ DB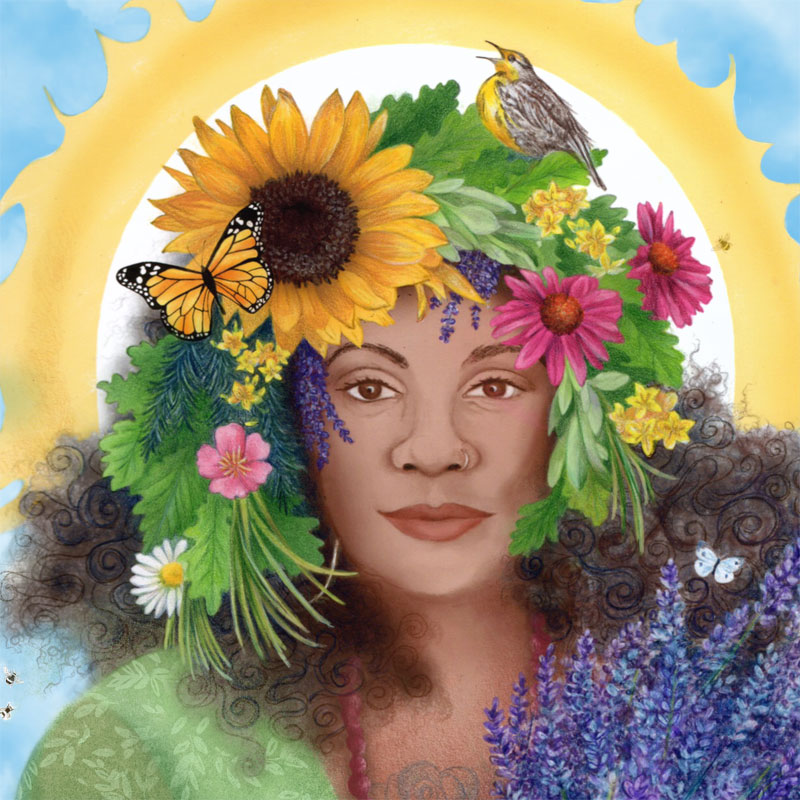 "

This has been such a wonderful experience, Joanna. I've felt very empowered to do and experience what most calls to me. I've felt so much synergy between our journey on the Wheel and other spiritual and political movement in my life. Very integrative. I'm looking forward to Walking the Sacred Wheel again this coming year." ~ SM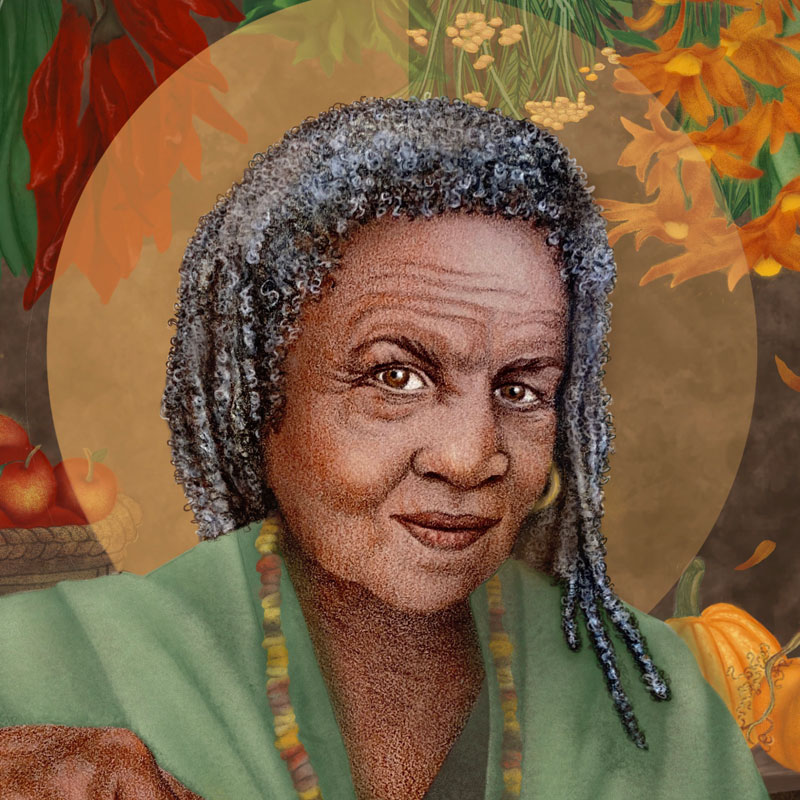 "I love how you include the expressive prompts — writing, dance, tarot spreads, music, etc. I have followed you for quite a while, and am so happy to be connecting with you now. ~ RPO
Frequently Asked Questions
How much does the course cost?
The cost of the year-long course is $1200 and there are several payment plans available.
When does the course start and finish?
Registration opens for the second round of the course in November 2022. You'll have access to the Prelude and Resource Library as soon as you register. 
The Winter Solstice session will begin on December 11, 2022. The entire round for 2022-2023 ends in late November 2023.
How long do I have access to the course materials?
You will have access as long as I have an online presence.
Can I register at any time throughout the year, for one or two seasons at a time?
No. I designed this course to encompass the entire Wheel of the Year. 
When do the Zoom calls take place?
Scheduling the Zoom calls is one of the most challenging things about presenting a course, as there is never a time that works well for everyone. So I chose times that I hoped would work well for most people.
The Zoom discussion calls will take place on two Tuesdays in each seasonal session. The first one (usually in Week 1) takes place at noon Pacific time. The second one (usually in Week 3) takes place at 5 PM Pacific time. The Zoom seasonal ritual calls will take place once per session on a Sunday at 1 PM Pacific time.


For example, here are the dates for the calls for the Winter Solstice session:
Zoom Call 1 - Tues Dec 13, noon Pacific
Zoom Ritual Circle - Sun Dec 18, 1 PM Pacific
Zoom Call 2 - Tues Dec 27, 5 PM Pacific
Do I have to participate in the Zoom calls or Mighty Networks group?
No. You can work through the course on your own, without interacting with other people. The Zoom calls and MN group will enhance your experience — both are for sharing, discussion, and building community. All the teaching material is delivered through Teachable and email.
Is this course for women only?
This course is open to everyone. I am committed to being inclusive of all genders. The course is designed for anyone who has a devotion to the Sacred Feminine.
I live in the Southern Hemisphere. Will this course work for me?
This is always a difficult question to answer when it comes to seasonal courses. I don't want to exclude anyone. But the holy-days of the Wheel of the Year are rooted in traditions from Europe and are thematically connected to the seasons of the Northern Hemisphere. So the seasonal teachings in this course will not reflect the seasons you are experiencing in the Southern Hemisphere. But the invitation to reflect on the stages of your life may still work for you. You are welcome to download all the material and revisit it during the appropriate season. 
Is this the same course as the Sacred Wheel course you taught a few years ago?
No. This course is new, although it is based on one of the modules in that course. The material we covered in one week is now expanded to an entire year. This course is based on the book and oracle deck I've been working on for some years now. If you've followed my work for a long time, you may have seen some of the material that I've shared before. 
How much time do I need to put into this course?
It's entirely up to you. You can tread lightly through the course, or go much deeper. You may find yourself energized by the material of one particular season and not particularly excited by another. I will give you a smorgasbord of prompts and suggestions for activities. My intention is to provide you with choices. Listen to the calling of your heart and follow your own inner promptings. You can never get behind in this course; the Wheel is always turning.
What if I have questions? How do I access support?
If you have questions about the course content, you can email me or contact me through our Mighty Networks circle. If you need tech support, Shari Smith is available to help you, either through the MN circle or by email. You can also ask questions of the entire community in the Mighty Networks group — I love the wisdom that comes forth from the circle. And there will always be time for Q&A on our live Zoom calls. 
What is your refund policy?
Because this is a digital product, the course is non-refundable. More than that, it's important for you to set an intention to complete the course, even if your level of participation waxes and wanes. If you register with a payment plan, you are making a commitment to complete the payments. If you're unsure whether or not the course is right for you, please reach out before purchasing. I'm always happy to answer questions about the course.
All artwork on this page is by Joanna Powell Colbert.
About your guide for the journey ...
I'm Joanna Powell Colbert.
I'm a sacred artist, creator of tarot and oracle decks, teacher, writer, retreat host. I open the gateway and hold space for people to step through to the next phase of their soul's journey.
I come in the lineage of nature-based soul-rooted practices, Goddess spirituality, historical and contemporary tarot wisdom, plant spirit magic, sacred art-making, Circle Way council work, and archetypal / mythic knowings of the four directions and the eight-fold sacred wheel of life, death, and rebirth.
I'm not afraid to descend to the depths and emerge again with questions dripping in mystery.
I created the Gaian Tarot and the Pentimento Tarot, and co-created the Herbcrafter's Tarot. I'm currently working on a new deck and companion book based on the material in this course, the Sacred Wheel Oracle.
My politics are not separate from my spirituality; they rise from a common root. I cannot disentangle the two. I am not interested in a spirituality that bypasses social and environmental justice. Every day I learn more about how to ally and how to be a better ancestor.
I live on the edge of woods and lake near the shores of the Salish Sea in Bellingham, Washington, on the ancestral lands of the Coast Salish Lummi (Lhaq'temish) People and Nooksack (Nuxwsa'7aq) People.
I invite you to take a walk with me through the woods, by the shore, through a field of lavender. I'll call the circle. I will listen deeply as you speak your truth.
Come, step across the threshold into the rest of your life.